Procreate Plaid and Pattern Brushes - 15 Brushes Included and Instructions to Make and Edit More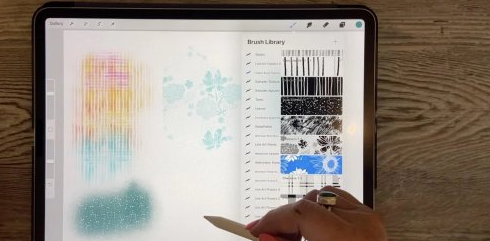 Procreate Plaid and Pattern Brushes - 15 Brushes Included and Instructions to Make and Edit More
Genre: eLearning | Language: English | Drawing & Painting | MP4
Hey there! I'm sure it is no surprise that I am posting yet another Procreate brush class: I am obsessed!
This class, however, is quite different from
Procreate Brushes to Make and Sell 
 and 
Simple Brushes in Procreate for Quick Compositions
. 
If you have been in those two classes, you've learned plenty about custom Procreate brushes, but I still have more info for you! This new class will focus on producing pattern brushes. They feature full seamless repeats and can be oh-so-versatile.
In this class, 
Procreate Plaid and Pattern Brushes
, I will show you some of my illustration and pattern design methodology, and ways to use pattern to create brushes. In the class, I take you from start to finish in creating a full seamless repeat pattern (or two.. or three). OK, it is more like a half a dozen, haha. Patterns are the basis for these types of brushes. And, I have techniques to save the pattern in many iterations. One of my goals is to show you how easy it is to adjust these brushes once they are made. The star of the show is definitely creating and using patterns to create these brushes. Of course, in the end I take you through the creation of a complete artwork, from start to finish, and show you examples. You will surprise yourself with what you can accomplish and how truly unique and lovely the finished work is.
I'll walk you through:
my step-by-step method for making seamless patterns in Procreate for use in making brushes

tips for creating varied and appealing brushes

my workflow for use of layers and other great features like snapping

adjusting patterns to perfect the look of your brushes and adding textural elements in the background and on motifs

methods to keep brushes fully editable for later adjustments

If you're an aspiring designer with a basic knowledge of Procreate, you'll be able to go through all the steps. This class will benefit anyone who wishes to simplify creation of brushes from seamless patterns and methods to improve efficiency in doing so.
The key concepts I will include:
review of my brush alterations and adjustments

a look at Procreate brushes and their various idiosyncrasies

approaches you can take in your creative work

Content Source:
https://www.skillshare.com/classes/Procreate-Plaid-and-Pattern-Brushes-15-Brushes-Included-and-Instructions-to-Make-and-Edit-More/1733632841

Buy Premium From My Links To Get Resumable Support,Max Speed & Support Me
https://hot4share.com/9oq3m30t4zoa/Procreate-Plaid-and-Pattern-Brushes-15-Brushes.rar
[/url].html
https://rapidgator.net/file/20bf7a60ebf73ecd9b610dbf16cb365f/Procreate-Plaid-and-Pattern-Brushes-15-Brushes.rar
.html
https://uploadgig.com/file/download/4cFa2025DBbFbd1a/Procreate-Plaid-and-Pattern-Brushes-15-Brushes.rar
https://ddownload.com/aec3oxmruwfr/Procreate-Plaid-and-Pattern-Brushes-15-Brushes.rar
[/center][/quote]