Kevin Meng - Web Copy Masterclass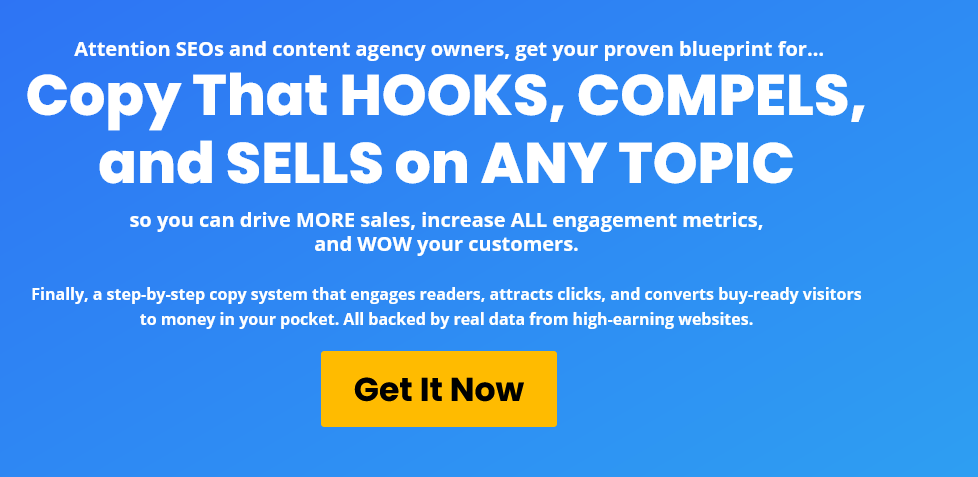 Kevin Meng - Web Copy Masterclass
Genre: eLearning | Language: English | Business and Marketing | MP4 | 383 MB
Attention SEOs and content agency owners, get your proven blueprint for.
Copy That HOOKS, COMPELS, and SELLS on ANY TOPIC
so you can drive MORE sales, increase ALL engagement metrics,
and WOW your customers.
Finally, a step-by-step copy system that engages readers, attracts clicks, and converts buy-ready visitors to money in your pocket. All backed by real data from high-earning websites.
Hey there, I'm Kevin Meng.
I'm the guy on the left and I'll never forget the day the idea for this course was born. It was a year ago at the Chiang Mai SEO conference, one of the best SEO conferences in the world.
I was just a writer with a quirky style working in the SEO community (LeadSpring, Convertica, DreamGrow, etc.). Nothing special. But I wanted to learn more about affiliate SEO from the best minds in the business, and a bunch of my past clients were going. So I thought, "why not?".
I fully expected to walk up to everyone, introduce myself, and get totally ignored.
Except THE EXACT OPPOSITE happened.
People started walking up to me.
"Hey, are you the writer so-and-so was talking about?"
"Man, how much do you charge per word?"
I had 0 clue what was going on. They had the wrong guy.
When I found out why people were coming to me, I was FLOORED:
MY ARTICLES WERE GETTING INSANE RESULTS FOR A CLIENT, AND HE WAS TELLING EVERYONE!
Like triple-the-conversions-type results
Like $7,600-from-one-article-type commissions.
Like $500-PER-DAY-type commissions.
Like massive-orders-and-earnings-boners-type results.
I kept telling everyone I met what was happening. After telling about 10 disinterested people, an agency owner said:
"Man, you really should make a course. I'll pay you for it. I can never get my writers to write quality stuff, and I don't have the time to train them myself."
That's when it hit me.
What if I mapped out my entire writing process - the same process that generated spikes in engagement, clicks, orders, and commissions - from start to finish, and recorded my finger-licking-good voice talking about it? That could 100x the value for my clients.
Instead of 1 great article, I'd reveal my PROCESS behind generating a great article so anyone could write hundreds or even thousands of them.
Web Copy Masterclass was born.
I went home and got straight to work.It took me 8 months and as you read this, my dream is now a reality.
50+ videos, dozens of real-life examples, a juicy case study, countless tips based on REAL RESULTS FROM REAL WEBSITES.
Everything you learn in this course is something I've done to a real-world article that resulted in WINS. Remember this:
Better articles = More money
So what wins am I talking about?
👉 Better efficiency (No bottlenecks)
👉 More time on page
👉 Lower bounce rate
👉 Better rankings
👉 More sales
👉 More commissions
👉 You name it.
It doesn't matter if you're an agency, a solo SEO, or an affiliate empire with dozens of dedicated writers for each site - Better content = more money.
Writing great content is my passion. It's the lifeblood of every website. It's your brand voice, your cash cow, your vehicle for better rankings, clicks, and commissions.
Is your website bleeding money?
Better content = more money. That means every piece of bad content = less money.
Your website might be losing blood and you don't even know it. How so?
An interested buyer clicks to your article and bounces? Congrats, you lost a sale and Google hates you.
A writer sends you a garbage article and you have to rewrite it yourself? You just paid someone to do work that you're doing anyway.
An SEO client sends a blog back? You just hurt your reputation and wasted hours on something that should have been done right the first time.
If you aren't prepared to produce quality content, just quit now.
But good content is so hard to find.
Let's face it, good content, the kind of stuff that hooks, compels, and sells readers is rare.
Every SEO or agency struggles to put out halfway decent stuff at a reasonable price. Half the time, they end up with garbage like this:
The Benefits of Air Purifiers
" If you combine the words "air" and "purify", it's quite an easy task to see that an air purifier purifies the air"
I kid you not, I saw that on a real website. Someone PAID MONEY for that. That content will DESTROY your business.
Poor content will DESTROY your engagement, conversions, and sales. And it will eventually ruin your reputation. It's not a matter of IF but WHEN.
I'm only one man. I can't write for everyone at once. So why not just add my brain to your content department? And you don't have to cut my skull open! You just watch videos!
That way, you get my entire library of writing knowledge for the price of one article!
Ladies and gentlemen, SEOs and agencies, people all ages - BEHOLD!
Web Copy Masterclass. The first copywriting training course made for SEOs, affiliates, and agencies based on REAL DATA.
A Copywriting Course Designed Specifically for the SEO Industry
Scale Fast WITHOUT Spending More:
Generate extra revenue by awakening the hidden potential within low-converting articles. My copywriting secrets have 3x'd conversions nearly overnight and generated thousands in new sales clients never knew they had. AWAKEN THE SLEEPING GIANT!
As Close to Done-For-You As Possible :
Learn brick-by-brick how to build a bulletproof article from ground up, including my secret swipe files of the highest converting intros, body content, SEO titles, and product sales copy. Just plug and place everything in your own words. Copy me - I don't care. Even a novice writer can start churning out high-quality content on any topic after a few hours of videos.
Ace Copywriting WITHOUT the Price Tag:
You get my entire ace copywriting blueprint for less than the price of one long article or hour of consultation. It's like having me next to you in an infinite "pick his brain" session, except you don't have to put up with my bullshit. Earn more commissions, upgrade your in-house content department, finally earn the respect of your parents - the ceiling is infinite.
Before This Course
⛔ High traffic/low conversions
⛔ Laughably low clicks on affiliate links
⛔ Bounce rate hurting your rankings
⛔ $0,000,000 in commissions
⛔ Efficiency-killing rewrites
⛔ Days spent fighting with absentee writers over spun content
⛔Dissatisfied customers.
After This Course
✅ Higher conversions
✅ Readers click on your affiliate links (not the back button)
✅ Readers stay on page, Google loves you
✅ Never send back an article to your writer again
✅ Outsource my process and you have an elite content department churning out pro-level copy HANDS-OFF
✅ Eliminate content bottlenecks forever
Now do you see?
There's so much more to this course than just hearing my succulent, hot-chocolate-with-marshmellows-on-a-winter-night voice.
Imagine, after a few days of videos, you'll be able to:
✅ Turn all of your low-converting articles into conversion machines, and increase revenue without driving more traffic or increasing rankings
✅ Quickly evaluate all incoming content for fatal flaws and fix them INSTANTLY rather than playing "catch the email" with your writers
✅ Stop wasting precious time coddling writers and rest easy knowing your site is finally in capable hands
✅ Reduce rewrites to nearly 0 and eliminate time-consuming bottlenecks in your agency
✅ Inject 150CCs of engagement juice into all of your supporting content, boosting time on page across your site and getting BETTER RANKINGS
Or how about not outsourcing at all and writing the stuff on your own. Why pay $200 + for an expert article when you just crank it out by yourself by basically copying my swipe files and examples?
Here's an exclusive sneak peek:
👉 The 3 Keys to Compelling Copy That EVERYONE SCREWS UP: Ever wonder why it's so hard to produce quality articles consistently? It's because EVERYONE is doing it wrong. Readers don't want to be informed. They want these 3 things instead. And I've got the data to prove it.
👉 How to Sound Like an Expert (Even If You're Not): My research module teaches writers how to dig deep into the molten center of the internet's core and find key information that most others miss. These secrets will make you sound like an expert - the lingo, the personality, the jargon, the hopes, the goals, and deepest seated fears of your audience - you'll know it all.
👉The Truth Bomb About Intros That Makes Every Writer Say "Wow, You're RIGHT!": Your intros ARE NOT FOR INTRODUCING THE TOPIC. They are for hooking the reader and mercilessly chaining them to your article. I'll show you exactly how to do it plus give you templates of high converting intros to copy. This one mindset shift could boost engagement/conversions on EVERY ARTICLE.
👉 The One Reason Your Affiliate Reviews Aren't Converting (And What to do Instead): I have a truth bomb for you - nobody cares about your products. At least not when clicking the buy button. They aren't buying a product, they're buying a feeling. They're buying the way they'll feel in the world your product creates for them. You don't have to be an expert to do this, you just have to follow my super touchy feely emotion-evoking blueprint.
I know. So cool, right?
But I'm not done yet.
You'll get to hear my voice for 50+ videos, the principles of good copy, how to research, and how to write intros and the main body plus my copywriting masterclass.
But just because I like you, I'm going to throw in some bonuses that'll make your life so much easier.
https://webcopymasterclass.com/

Buy Premium From My Links To Get Resumable Support,Max Speed & Support Me
Links are Interchangeable - No Password - Single Extraction