Bring Your Sketchbook to Life: Creating Interactive Sketchbook Pages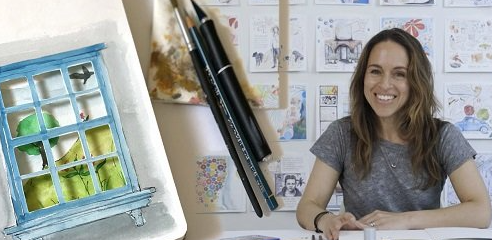 Bring Your Sketchbook to Life: Creating Interactive Sketchbook Pages
Genre: eLearning | Language: English | Drawing & Painting | MP4 | File Size :746 MB
Do you love interactive books from childhood? Those pages that flip open, have holes in them, or have a pocket or door?
In this class you will learn how to bring your own sketchbook or journal pages to life by creating interactive, surprise elements to be discovered as you turn the pages. We will be creating pockets, fold-outs, cut-outs, and windows, and we will even sew a pocket onto a page, and create a small booklet to fit inside.
Artist and author Samantha Dion Baker shares some of her favorite interactive projects and samples from her own sketchbooks. The ideas in this class can be a stepping stone for many creative ideas whether in your own sketchbooks, or in your finished artwork.
Throughout the class Samantha will teach you to how to 
create 5 simple interactive art projects 
and 
find inspiration in the everyday
 to discover that you can dream up your own ideas as you push and pull, open, close, and unfold things.
Whether you're looking for a fun creative project to add to your sketchbook practice, this class will give you an arsenal of tools you can start using right away. You'll learn to get the most out of your materials, experiment to discover how your personal style can be woven into these ideas, and find inspiration everywhere you look.
Content Source:
https://www.skillshare.com/classes/Bring-Your-Sketchbook-to-Life-Creating-Interactive-Sketchbook-Pages-with-Samantha-Dion-Baker/1031762895

Buy Premium From My Links To Get Resumable Support,Max Speed & Support Me