Chaos Group V-Ray 5 Update 1.4 (build 5.10.24) for Cinema4D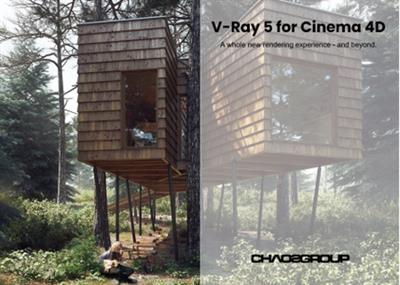 Chaos Group V-Ray 5 Update 1.4 (build 5.10.24) for Cinema4D | 1.9 Gb
The
software
developer Chaos Group is pleased to announce the availability of V-Ray 5.10.24 for Cinema 4D. A maintenance release is a release of a product that does not add new features or content. This maintenance release intended to solve minor problems and "bugs" in 5.10.23 release.
Build 5.10.24 (Update 1.4) Official release - Date: Oct 27, 2021Bug fixes
- Incorrect texture rendering when the UVW tag is placed after the material tag
- V-Ray Bitmap "No Tiling" option does not work
- Fix broken hyper link inside the Update dialog
Chaos Group has released V-Ray 5 for Cinema 4D.
This version of their rendering plugin includes many new features from both V-Ray 5 and V-Ray Next, making this release essentially two upgrades of V-Ray for Cinema 4D in one.
V-Ray 5's built-in compositing and interactive light mixing enable users to fine-tune and finish their renders without having to re-render or go to a separate app. For fast interactive rendering and final production rendering, V-Ray can render on GPUs, CPUs, or a combination of both. With V-Ray's distributed rendering, users can render faster using multiple machines. Render jobs can also be sent directly to Chaos Cloud, Chaos Group's cloud rendering service.Users can now take advantage of V-Ray tools that help them work smarter. This includes automatic camera exposure and white balance, instant AI-driven noise reduction, and much more.
V-Ray 5 Update 1.4 (build 5.10.24) for Cinema 4D is maintenance release intended to solve minor problems and "bugs" in 5.10.23 release.
Webinar: V-Ray 5 for Cinema 4D
Chaos Group
is a worldwide leader in computer graphics technology, helping artists and designers create photorealistic imagery and animation for architecture, design, and visual effects. Chaos Group's award-winning physically-based rendering and simulation
software
is used daily by top design studios, architectural firms, advertising agencies, and visual effects companies around the globe. Today, the company's research and development in ray-traced rendering, cloud computing and real-time ray tracing is shaping the future of creative storytelling and digital design. Founded in 1997, Chaos Group is privately owned with offices in Sofia, Los Angeles, Prague, Seoul, and Tokyo.
Product:
Chaos Group V-Ray
Version:
5 Update 1.4 (build 5.10.24)
Supported Architectures:
x64
Website Home Page :
www.chaosgroup.com
Languages Supported:
english
System Requirements:
*
Size:
1.9 Gb

Buy Premium From My Links To Get Resumable Support,Max Speed & Support Me