Mentor Graphics PADS Professional VX.2.8 Update 8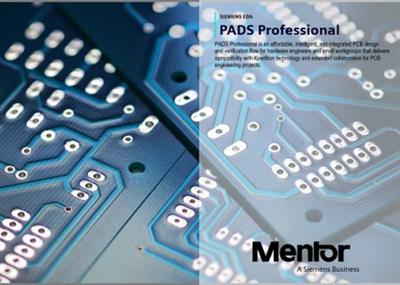 Mentor Graphics PADS Professional VX.2.8 Update 8 | 1.1 Gb
Mentor Graphics Corporation, a Siemens business, is pleased to announce the availability of PADS Pro VX.2.8 Update 8. This release focuses on enhancements to the core technology, many of which have been suggested by you through Mentor Ideas.
Design Reuse Enhancements
Layout design reuse has been enhanced to now include publishing of circuits within the layout environment. This gives you the ability to create circuits used multiple times in the design, protect it from editing, and provide notification and updating if the master source circuit is changed.
Differential and Sketch Routing Enhancements
Adding to the new technology used for routing and manipulating differential pairs with the highest precision. VX.2.8 further enhances routing with curved trace along with performing modifications when needed and adding an individual rule for via to via spacing. Enhancements have been added to Sketch routing providing higher completion rates when routing between 2 or more rule areas. Lastly, hover tooltips have been added providing quick access to commonly needed information.
Net Tiebars and Plane Enhancements
Schematic and Layout net shorting has been simplified in VX.2.8 with new functionality called Tiebars. DRC options for conductive shapes, often used in-place of traces for larger metal areas, has been enhanced by allowing you to choose the rule type to be checked against. Lastly, plane area priorities have been implemented to simplify the creation process.
Multi-hole - Custom Vias and Unified Teardrop Enhancements
A simplified approach to setting up and working with conventional and curved teardrops along with trace Ts has been implemented. New functionality allowing designers the flexibility to create complex via structures needed for today's tough designs. Lastly, to help designers complete complex tasks more efficiently the Selection list has been updated with filter capability.
MCAD Collaboration Enhancements
VX.2.8 continues to improve upon its industry-leading MCAD collaboration functionality. Visual updates of baseline versus updates, ownership (MCAD or Electrical) of objects has been added, and collaboration restrictions have been are now available with visual identification. When using NX, parameters necessary for accurate definition of Rigid-flex structures are now included.
Designer User Enhancements
VX.2.8 has added several user enhancement requests. To name a few; improved net routing, quick-add net names with instant editing, ability to change a property name, improved property updating for multiple selected devices, and the added ability to group circuit components from the workspace context-sensitive menu.
Library Migration Wizard
A simplified approach has been created allowing current Altium and PADS Layout users with Logic or Designer in netlist flow to migrate their library content to PADS Professional Central Library structure. Reducing the number of steps previously required and providing data verification along the way.
PADS Professional
delivers the industry's only fully-integrated design and analysis solution that combines capture, layout, signal integrity analysis, and 3D into one tool. The platform is powered by Xpedition
software
technology - the same design tool used by many of the world's most successful technology organizations.
PADS Professional solves the problems other unified PCB design tools don't. With industry-leading placement, routing, and analysis technologies, PADS Professional contains everything you need to unlock your PCB design potential. The full flow of PADS Professional enables you to design, validate and manufacture PCB-centric systems incorporating advanced FPGA devices.
The PADS Professional VX.2.8 release is enhanced with many new features that improve product usability and efficiency. It includes also key updates, enhancements and ideas submitted from our user community. Packed with new features across the design flow PADS Professionals the VX.2.8 release empowers engineers and designers to create modern electronics products even faster!
PADS Professional VX.2.8
Mentor Graphics Corporation, a Siemens business,
is a world leader in electronic hardware and
software
design solutions, providing products, consulting services, and award-winning support for the world's most successful electronic, semiconductor, and systems companies. Corporate headquarters are located at 8005 S.W. Boeckman Road, Wilsonville, Oregon 97070-7777.
Product:
Mentor Graphics PADS
Version:
Professional VX.2.8 Update 8
Supported Architectures:
x64
Website Home Page :
www.mentor.com
Languages Supported:
english
System Requirements:
PC *
Software Prerequisites:
Mentor Graphics PADS Professional VX.2.8 and above
Size:
1.1 Gb
Platform Support Changes
VX.2.8 will not support the following Operating Systems:
- Windows 7 64 Bit Enterprise SP1 or Greater
- Windows 8.1 64 Bit Enterprise All Versions
- Windows Server 2012 R2 64-Bit Standard
Microsoft Windows 10
Microsoft Windows 10 Version 1909 (64 bit versions), Enterprise Editionand Pro Edition are supported. While there is no known issue with running Microsoft Windows 10.0 Home Edition or Educational Edition, the product has not been tested with these editions, and therefore is not supported.
Kernel Configuration:
N/A
Processor:
Dual-core Intel or AMD processor minimum.
Memory:
8GB recommended
Swap Space:
2x the amount of RAM
Windows Server 2016
Additional OS Patches (the following 64-bit configurations are supported):
- Microsoft Windows Server 2016, with all current updates via Windows Update
Processor Minimum:
Dual-core Intel or AMD processor minimum.
Minimum RAM:
8GB (per simultaneously logged in user)
Virtual Memory:
2X the amount of RAM
Windows Server 2019
Additional OS Patches (the following 64-bit configurations are supported):
- Microsoft Windows Server 2019, with all current updates via Windows Update
Processor Minimum:
Dual-core Intel or AMD processor minimum.
Minimum RAM:
8GB (per simultaneously logged in user)
Virtual Memory:
2X the amount of RAM