Autodesk Civil 3D 2022.1.1 Hotfix with Updated Extensions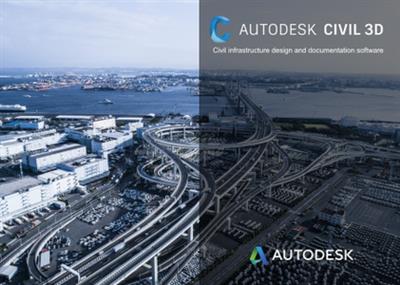 Autodesk Civil 3D 2022.1.1 Hotfix with Updated Extensions | 1.7 Gb
Languages Supported: English, English UK, Français, Deutsch, Italiano, Español, 简体中文, 繁體中文,
日本語, 한국어, Čeština, Polski, Português-Brasil, Русский
The
software
developer Autodesk is pleased to announce the availability of new release core infrastructure design solution AutoCAD Civil 3D 2022.1.1 Hotfix with Updated Extensions.
Release Notes for Autodesk Civil 3D 2022.1.1
The Autodesk Civil 3D 2022.1.1 Update fixes the following issues:
Corridors
- Fixed an issue in which targets would be lost after adding or editing targets for multi-target subassemblies in Civil 3D 2022.1.
Drawing Settings
- Fixed an issue in which the scale factor on the Transformation tab of the Drawing Settings dialog box was applied inconsistently.
Pressure Networks
- Added the ability to use the pressure part styles that are set in the parts list when the pressure network is referenced by data shortcuts.
Subassembly Composer
- Fixed an issue in which a subassembly saved in Subassembly Composer 2022 could not be imported correctly into Civil 3D.
- Fixed an issue in which re-ordered input/output and target parameters in the Subassembly Composer were not saved in the subassembly PKT file.
Surfaces
- Fixed an issue in which surface legend tables provided different results in Civil 3D 2016 and Civil 3D 2022.
AutoCAD Civil 3D
software
from Autodesk addresses the needs of civil engineering companies involved in standalone and BIM (building information modelling) Civil engineering projects.
Built on a familiar AutoCAD platform AutoCAD Civil 3D has been specifically geared to address the challenging needs of civil engineers around the world involved in complex and demanding civil engineering projects such as land development, transportation and even water based engineering projects.
Civil 3D and InfraWorks have unique strengths on their own but they're even more powerful when combined. InfraWorks is an outstanding tool for aggregating data, visually evaluating design concepts, and communicating design intent. Civil 3D is the best tool available for detailed infrastructure design and documentation. Having good data flow between the products provides more flexibility.
Civil 3D 2022 | New Features and Updates
Autodesk
helps people imagine, design and create a better world. Everyone-from design professionals, engineers and architects to digital artists, students and hobbyists-uses Autodesk
software
to unlock their creativity and solve important challenges.
Product:
Autodesk AutoCAD Civil 3D
Version:
2022.1.1 Hotfix with Updated Extensions *
Supported Architectures:
x64
Website Home Page :
www.autodesk.com
Languages Supported:
multilanguage
System Requirements:
PC *
Software Prerequisites:
Autodesk AutoCAD Civil 3D 2022.1 pre-install
Size:
1.7 Gb
Autodesk_AutoCAD_Civil_3D_2022.1.1_Update_Only
Autodesk_Data_Extension_for_12d_2022
CPIXML_Extension_2022_for_Autodesk_Civil_3D
DACH_Extension_for_Autodesk_Civil_3D_2022
Data_Extension_for_12d_2022.1_for_Civil_3D
Import_Export_Extension_for_GENIO_2022
Infrastructure_Parts_Editor_2022.0.1
ISYBAU_Translator_2022_for_Autodesk_Civil_3D
Microdrainage_Utility_2022.0.1_for_Autodesk_Civil_3D
PPK_Survey_Extension_2022_for_Autodesk_Civil_3D
Project_Explorer_for_Autodesk_Civil_3D_2022.1_Update
Storm_and_Sanitary_Analysis_2022.0.1_Update