SolidWorks 2021 SP5.0
SolidWorks 2021 SP5.0 | 15.1 Gb
Languages Supported: English, 中文, Čeština, Español, Français, Deutsch, Italiano
日本語, 한국어, Polski, Português, Русский, Türkçe
Updated: Added official hotfix *
,
Dassault Systèmes has launched SOLIDWORKS 2021 SP5.0, the latest release of its portfolio of 3D design and engineering applications. Last release enhances the capabilities and workflows for design, documentation, data management and validation that enable users to get their work done faster.
End of Life Announcements - SOLIDWORKS Products
SOLIDWORKS 2021 SP5 is the last release that will support the use of SQL Standard 2014.
Important:
This does not effect PDM Standard. However, the installed version of SQL Express will still need to be upgraded.
3D Stereo Viewing
eDrawings 2021 SP5 is the last release to support the option, 3D Stereo Viewing, in Tools > Options > General. 3D Stereo Viewing is only supported with NVIDIA® 3D Vision. Refer to the End of Life FAQ for NVIDIA 3D Vision.
Graphics Boost Option
eDrawings 2021 SP5 is the last release to support the option, Best appearance, including reflections, in Tools > Options > General.
Service Pack 5.0
There are no items for this service pack.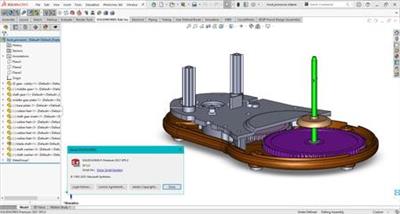 SolidWorks
is computer-aided design (CAD)
software
owned by Dassault Systèmes. It uses the principle of parametric design and generates three kinds of interconnected files: the part, the assembly, and the drawing. Therefore, any modification to one of these three fileswill be reflected in the other two.
SOLIDWORKS is easy to use, allowing you to become productive almost immediately. It's powerful and industry-proven, providing the depth of functionality needed to handle the most complex designs and largest assemblies.
SOLIDWORKS 2021 includes performance enhancements and expanded functionalities such as the top 10 requested enhancements from the SOLIDWORKS community at the 3DEXPERIENCE World 2020 event in February. Performance enhancements address parts and assembly design, products download, drawings, graphics, and data management to make file operations and workflows faster. SOLIDWORKS 2021 expands functionalities with improved assembly simplification, more flexible part design, and more robust simulation, as well as with user experience and assembly modeling "delighters" for SOLIDWORKS enthusiasts.
Watch the unveiling of SOLIDWORKS 2021. This release is specifically focused on expanded functionality and performance - improved large assembly performance, enhanced simulation capabilities as well as increased system performance and faster data management workflows. See live demonstrations and learn about the many important enhancements that will boost the capabilities and improve the workflows you use every day for design, documentation, data management, validation and more.SOLIDWORKS 2021 - What's New in SOLIDWORKS 2021
Dassault Systèmes, the 3DEXPERIENCE Company,
provides business and people with virtual universes to imagine sustainable innovations. Its world-leading solutions transform the way products are designed, produced, and supported. Dassault Systèmes' collaborative solutions foster social innovation, expanding possibilities for the virtual world to improve the real world. The group brings value to over 250, 000 customers of all sizes, in all industries, in more than 140 countries.
Product:
SolidWorks
Version:
2021 SP5.0
Supported Architectures:
x64
Website Home Page :
www.solidworks.com
Languages Supported:
multilanguage
System Requirements:
PC *
Size:
15.1 Gb
* This is official hotfix resolves issue in SOLIDWORKS 2021 SP5.0 related to crash of SOLIDWORKS 2021 SP5.0 when modifying or creating a date custom property with pre-2018 custom properties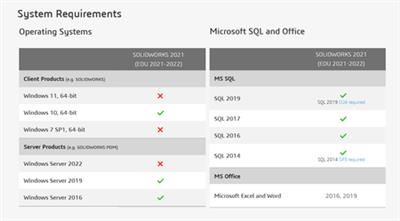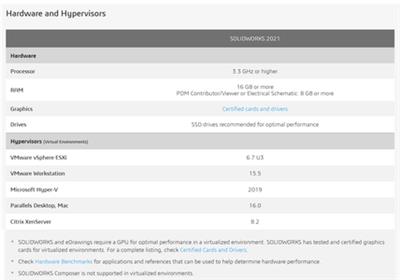 https://www.solidworks.com/support/hardware-certification/
Notes:
For SOLIDWORKS 2021 users, please install this patch to enable performance enhancements for the latest graphics cards.

Buy Premium From My Links To Get Resumable Support,Max Speed & Support Me