Acon Digital Extract Dialogue 1.1.6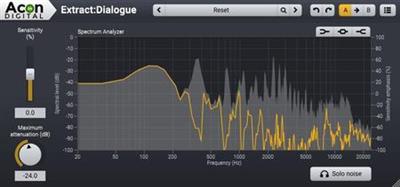 Acon Digital Extract Dialogue 1.1.6 | 33.3 Mb
Extract:Dialogue is a plug-in that separates dialogue from common types of background noise such as wind, rustle, traffic, hum, clicks and pops. The algorithm works in real time and is based on deep learning. It has been trained on thousands of high-quality voice recordings and an equally extensive set of common noise sources. The extensive training enables the artificial intelligence to automatically distinguish dialogue from noise without user interaction. This makes Extract:Dialogue extremely easy to use - just add it to your dialogue bus and let it do its magic.
Even though the noise reduction is fully automatic, the plug-in interface does offer simple controls to adjust the sensitivity of the noise detection and the maximum noise attenuation. The sensitivity can even be adjusted independently in up to three frequency bands. The maximum attenuation control is very handy when you only want to reduce the noise without removing it completely. All the parameters are fully automatable as you would expect.
Acon Digital Extract:Dialogue is available in 32 and 64 bit versions, as VST, VST3 or AAX for both Windows and macOS or as AU plug-ins for macOS. Acoustica Premium Edition 7.x owners can use their license key to authorize Extract:Dialogue and the upcoming Acoustica Premium Edition 7.3 will include Extract:Dialogue.
Platforms and Plug-in Formats
Available as VST, VST3 or AAX plug-ins on PC (Windows)
Available as VST, VST3, AAX or AU plug-ins on Apple Macintosh (OS X)
Native 32 bit or 64 bit versions of all plug-ins are available
Supports sampling rates up to 96 kHz
Acon Digital Extract:Dialogue
Fully automatic noise reduction based on deep learning
Global sensitivity control
Frequency dependent sensitivity control in up to three bands: Low shelf, peak and high shelf
Adjustable maximum attenuation
Solo noise mode
Spectrum analyzer for input audio and removed noise
Preset manager and a large number of factory presets
Save, load and categorize user presets
Resizable graphical user interface
System Requirements:
Windows 10 / 8 / 7
Intel Core i5 or AMD multi-core processor (Intel Core i7 or faster recommended)
1366 x 768 display resolution (1920 x 1080 or higher recommended)
1 GB RAM (4 GB or more recommended)
1 GB free HD space
A host application that is compatible with VST, VST3 or AAX (Pro Tools 10.3.5 or higher)
Home Page
-
https://acondigital.com/

Buy Premium From My Links To Get Resumable Support,Max Speed & Support Me