Siemens Simcenter FloEFD 2022.1.0 v5572 for Siemens NX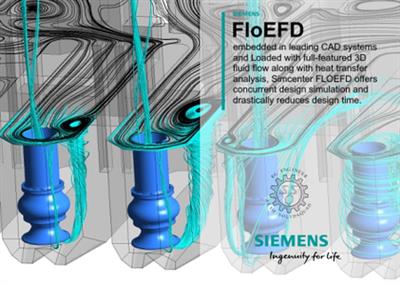 Siemens Simcenter FloEFD 2022.1.0 v5572 for Siemens NX | 1.2 Gb
Languages Supported: English, Deutsch, Français, 中文, 日本語, Русский
Product:
Siemens Simcenter FloEFD
Version:
2022.1.0 v5572
Supported Architectures:
x64
Website Home Page :
www.plm.automation.siemens.com
Languages Supported:
multilanguage
System Requirements:
PC *
Size:
1.2 Gb
Siemens Digital Industries
Software
announces the new release (2022.1.0 v5572) of its Simcenter FLOEFD
software
for Siemens NX, a CAD-embedded computational fluid dynamics (CFD) tool.
New Features
The following new features are available in this release:
- BCI-ROM: Improve accuracy.
Accuracy is improved in case there is a large difference between the initial temperature and the ambient temperature and a large HTC. The stability of extraction at lower tolerances is increased.
- BCI-ROM: Export of multiple formats.
Simultaneous export of multiple formats is possible.
- Electromagnetics: Value on coil.
You can get Electrical Current and Voltage values on the coil using the coil feature goal.
- Electromagnetics: Improved performance.
By default, 1st order polynomial is set for the fluid domain which may speed up electromagnetics analyses.
- Structural: Remote mass.
The Remote Mass load can be used to speed up a structural analysis by taking into account the gravity force (weight) from a body without modeling the body itself.
- Structural: Advanced material check.
The Advanced material check option is added to Check Geometry for structural analysis. This option allows you to check solid bodies for which different solid materials are specified and detect invalid contacts between surfaces which are not in contact with fluid.
- A new Solar radiation model with Turbidity.
A new solar radiation model can be used to account for the haze effect of the atmosphere on the intensity of incoming solar radiation. The haze effect is accounted via the Turbidity factor. The Turbidity factor allows you to describe the optical thickness of the atmosphere due to both the absorption by the water vapor and the absorption and scattering by the aerosol particles relative to a dry and clean atmosphere (by default it equals 3.5 for the blue sky, while for polluted cities it is close to 6-7).
- Transient Explorer: Custom parameters.
You can add custom visualization parameters into the Transient Explorer.
- Goals: Adding Radial and Axial velocity.
The Radial and Axial Velocity goals can now be specified.
- FMU: Unit output in FMU.
Information about units is exported to FMU.
- New SmartPCB tutorial.
The new SmartPCB tutorial explains how to import EDA files with Simcenter FLOEFD EDA Bridge, perform electrical-thermal co-simulations with HyperLynx DC drop analysis, and conduct linear static structural simulations.
- NX 1899.1919.
Added support of NX 1899.1919.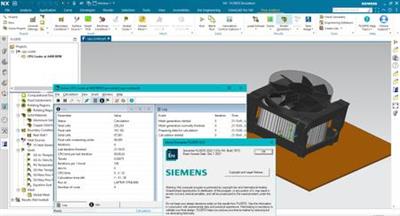 Simcenter 3D
helps you conquer engineering challenges. As the most comprehensive, fully-integrated CAE solution, you can work across simulation domains from a common engineering desktop.
Simcenter FloEFD
software
puts the power of CFD simulation in your hands. Use it directly in NX, Creo, CATIA V5 or Solid Edge in order to explore the full potential of your ideas quickly, without disrupting your design process. Understand the impact of changes in the geometry or boundary conditions on the results effortlessly, conduct fast and frequent what-if analysis, and generate insightful reports inside your preferred CAD platform. Built on a foundation of intelligent, fast and accurate technology, Simcenter FLOEFD can help reduce the overall simulation time by as much as 75% and enhance productivity by up to 40x.
Simcenter FloEFD for NX
is a powerful computational fluid dynamics (CFD) analysis tool that is embedded into Siemens NX. It enables design engineers to frontload CFD by moving simulation early into the design process where it is more cost effective to identify and fix problems.
Simcenter FLOEFD for Siemens NXThis short video demonstrates performing upfront fluid flow simulation and heat transfer analysis directly in the Siemens NX CAD Environment using fully CAD-embedded Computational Fluid Dynamics (CFD), Simcenter FLOEFD for NX software.
Siemens Digital Industries Software
is driving transformation to enable a digital enterprise where engineering, manufacturing and electronics design meet tomorrow. The Xcelerator portfolio helps companies of all sizes create and leverage digital twins that provide organizations with new insights, opportunities and levels of automation to drive innovation.

Buy Premium From My Links To Get Resumable Support,Max Speed & Support Me