Make your custom Pattern Brush, with Adobe Capture and Adobe Fresco App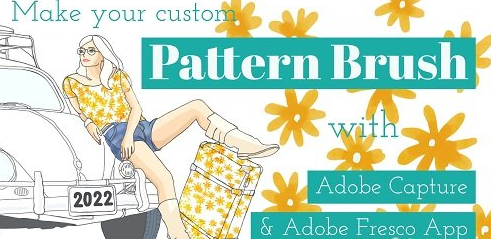 Make your custom Pattern Brush, with Adobe Capture and Adobe Fresco App
Home Page
https://www.skillshare.com/classes/Make-your-custom-Pattern-Brush-with-Adobe-Capture-and-Adobe-Fresco-App/769254166
Genre / Category:
Drawing & Painting
File Size :261MB
Product Details Join Carina creating Adobe Capture pattern brushes, from own illustrations and photos, and using them in Adobe Fresco App.
Showing complete process, tips, and applications, creating new assets, and re using old ones.
If you love working with patterns, and you are looking for an easy way to create them, this class is for you!
In this class you'll learn:
How to use simple doodles to create a pattern

How to digitalize in Adobe Capture

How to convert your assets in brushes with Adobe capture

How to apply pattern brushes with Adobe Fresco App

Tips and ideas to reuse old illustrations, and create new ones.